WE REPAIR GMC AND CHEVY SPEEDOMETERS IN DADE AND BROWARD COUNTY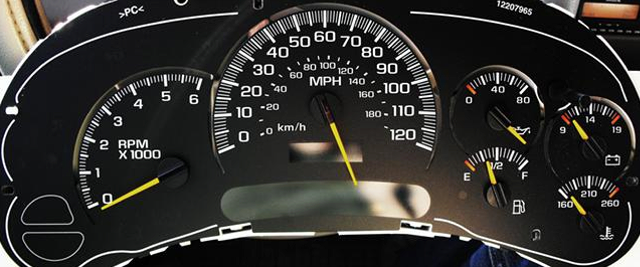 Does your GMC or CHEVY speedometer look like this?
Speedometer not working? Are all the gauges dead? Having problems with the gear shift display? Are your gauges all over the place and not reading right? How much are you willing to pay for that speeding ticket? It's cheaper to get it repaired than getting points on your license.
That oil and temperature gauge may seem like no big deal until your engine blows. How much do you think that will cost to fix? (just a hint - a few thousand dollars)
How about your gas gauge? Know how dangerous it is for your wife or family member to run out of gas in the middle of nowhere at night or in a scary neighborhood? That's just plain crazy.
Don't put yourself through that agony any more.
Call Us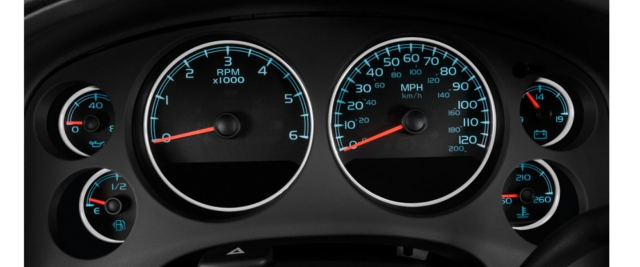 Having trouble with your GMC or Chevy Speedometer?
Gauges stopped working? Is it turning on and off? Has your odometer screen gone blank or no longer functions? Can't see your gear shift indicator-(PRNDL)? These are very common problems on 1999-2014 Chevy and GMC vehicles such as on the Silverado, Tahoe, Suburban, Avalanche, Trailblazer, Envoy, Sierra, Yukon and H2 Hummers. We understand what you've been going through and it's time to get it repaired. It's frustrating but we can fix it.
We can repair dead, intermittent, and erratic speedometer gauges on many GMC and Chevy vehicles. We'll repair your non-responsive instrument panel on your Chevy and GMC car or truck and get it working again.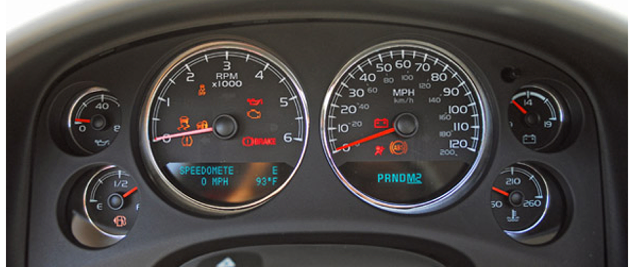 These speedometer problems usually affects the following models:
CHEVROLET MODELS:
2003 - 2006 Avalanche.
2000 - 2005 Cavalier.
2006 - 2011 HHR.
2003 - 2005 Impala.
2003 - 2004 Malibu.
2003 - 2005 Monte Carlo.
2002 - 2005 S10.
2003 - 2006 Silverado.
2003 - 2006 Suburban.
2002 - 2006 Tahoe.
2003 - 2006 Trailblazer.
2002 - 2005 Venture.
GMC MODELS:
2003 - 2006 Denali.
2002 - 2006 Envoy.
2003 - 2006 Sierra.
2003 - 2006 Yukon.
HUMMER MODELS:
PRNDL AND BLANK DISPLAY PROBLEMS:
2007 - 2014 Tahoe.
2007 - 2014 Suburban.
2007 - 2014 Avalanche.
2007 - 2014 Yukon.
2007 - 2014 Denali.
2008 - 2014 Silverado.
2008 - 2013 Sierra.
2014 - Silverado(2500,3500).
2003 - 2009 H2 Hummer.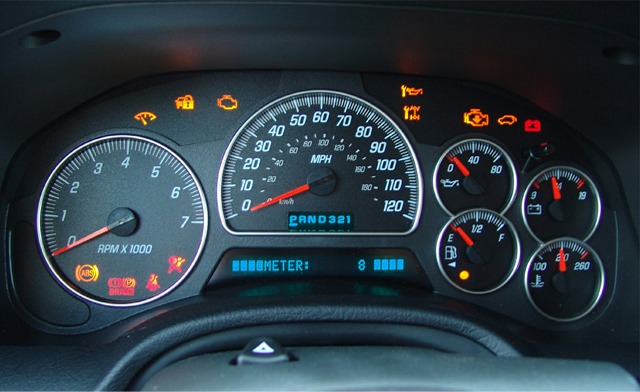 We Travel To You!
We'll bring it back to life! Just call us today to set an appointment to get it repaired. Best part is, we come to you!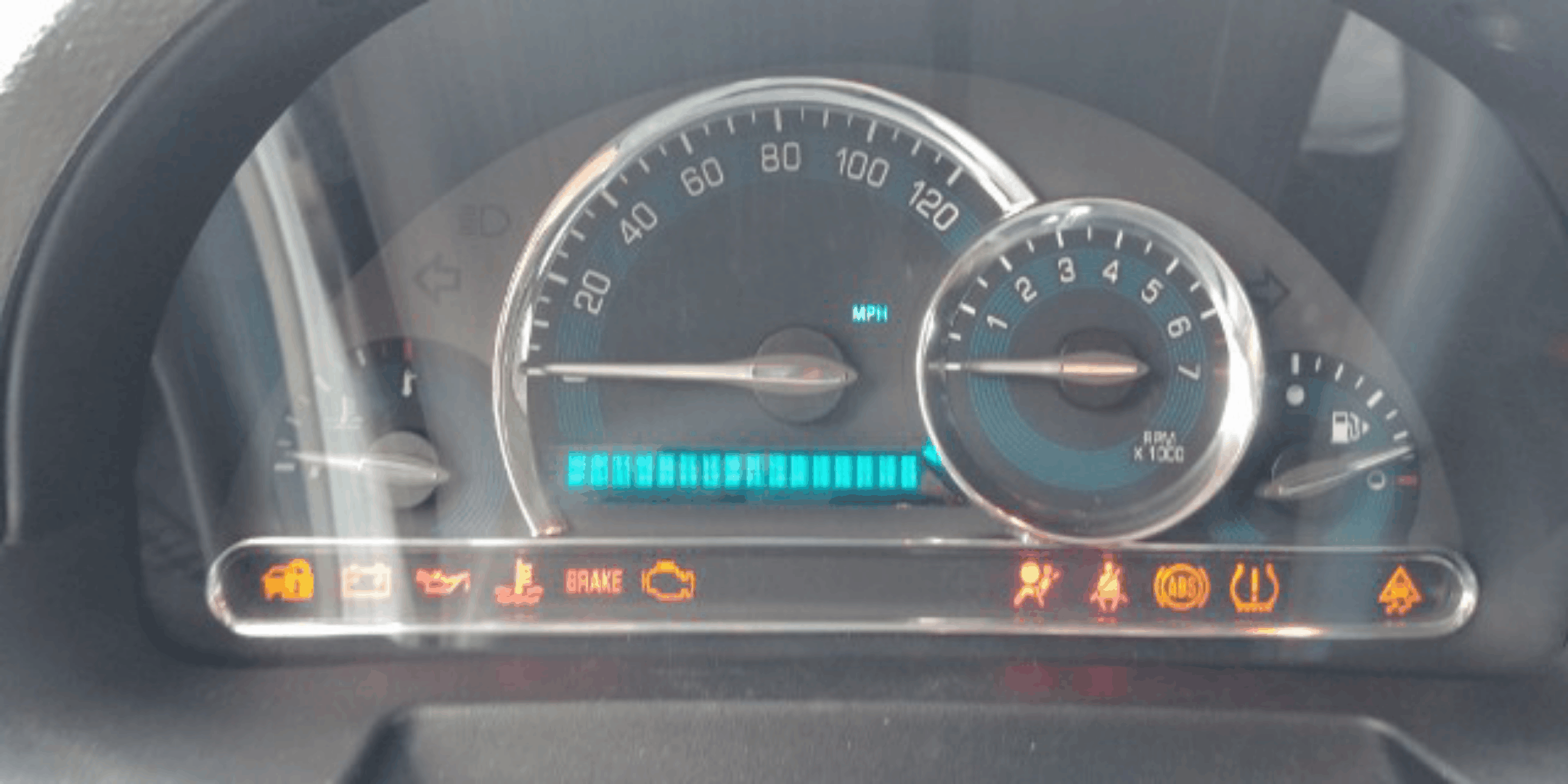 We'll make it work just like it came from the factory!
We'll take care of it at your home or business. Usually only takes 1 hour to complete and you're back on the road.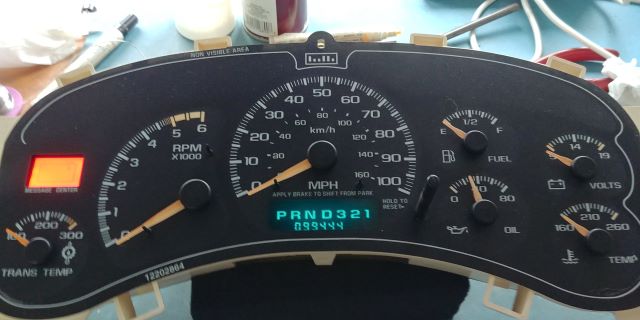 We bring the repair shop to you.
No more expensive repairs at the dealer. Best of all, no waiting in line or wasting your day in the repair shop. Don't get stuck without a car.
Just call us today to setup an appointment.
Most common problems with a defective Chevy and GMC instrument clusters are:
Intermittent or no power where nothing works except the turn signals.
Turns on or off when temperature changes or when you tap it. (please don't beat on it)
Gauges completely stop working.
Gauge needle goes all the way to the right and never returns.
Shows you're going 80 miles per hour when you're not even moving.
Gauges won't point to the left when you take the key out.
Dark, dim or blank gear shift display. Also known as the PRNDL display.
Dead odometer display (where the miles are displayed)
If you have one or more of these problems, call us today or click here to book a repair.
Tags: miamispeedometer, speedometer repair, speedomometer repair service, chevy speedometer repair Miami, cadillac escalade repair service, gmc speedometer repair fix, chevy speedometer repair fix, Chevy Speedometer Repairs in Miami, Instrument cluster repair, speedometer repair service, 2003-2006 Avalanche speedometer repairs, 2000-2005 Cavalier speedometer repairs, 2006-2011 HHR speedometer repairs, 2003-2005 Impala speedometer repairs, 2003-2004 Malibu speedometer repairs, 2003-2005 Monte Carlo speedometer repairs, 2002-2005 S10 speedometer repairs, 2003-2006 Silverado speedometer repairs, 2003-2006 Suburban speedometer repairs, 2002-2006 Tahoe speedometer repairs, 2003-2006 Trailblazer speedometer repairs, 2002-2005 Venture speedometer repairs, 2003-2006 Denali speedometer repairs, 2002-2006 Envoy speedometer repairs, 2003-2006 Sierra speedometer repairs, 2003-2006 Yukon speedometer repairs, 2003-2006 H2 Hummer speedometer repairs, We Repair Chevy Speedometers, We Repair GMC Speedometers, Miami Speedometer Repair Miami, dead gauge repairs, we repair dead gauges, chevy needle repairs, GM Cluster Problems?, PRNDL repairs, dead cluster repairs, gauge needle jumping repair, Instrument Cluster Repair Near Me, Speedometer repair shop Miami, cluster back lighting repair Miami, Odometer Display repair near me, Chevy and GMC Speedometer repair shop near me, Speedometer Fix near me, Speedometer fix in my town, Speedometer mobile repair shop Miami, gear shift indicator repair near me, Instrument Cluster repair service near me, speedometer replacement, reparacion de pantalla Chevy, Miami Odometer Repair, gmc speedometer repair Miami, Chevy and GMC Mobile repair service in 33010, 33012, 33013, 33014, 33015, 33016, 33017, 33018, 33030, 33031, 33032, 33033, 33034, 33035, 33039, 33054, 33055, 33056, 33109, 33110, 33111, 33112, 33114, 33116, 33119, 33121, 33122, 33125, 33126, 33127, 33128, 33129, 33130, 33131, 33133, 33134, 33135, 33136, 33137, 33138, 33139, 33140, 33141, 33142, 33143, 33144, 33145, 33146, 33147, 33150, 33154, 33155, 33156, 33157, 33158, 33160, 33161, 33162, 33165, 33166, 33167, 33168, 33169, 33170, 33173, 33174, 33175, 33176, 33177, 33178, 33179, 33180, 33181, 33182, 33183, 33184, 33185, 33186, 33187, 33190, 33193, 33194, 33196, 33197